With over 30 years of industry experience, Quality Pump Parts, Inc. is an independent manufacturer of replacement pump parts for centrifugal pumps. We manufacture pump parts for ANSI, API, Boiler Feed, Wastewater Treatment, Pulp and Paper, and Process Pumps.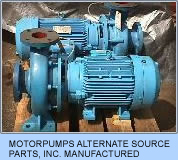 Our standard wear items include: Shafts, Sleeves, Rings, Impellers, Casings and Stuffing Box Covers.
Other parts include: Glands, Bearing Housings, Frames, Frame Adapters, Frame Feet and Casing Feet.
We can supply or manufacture every component necessary to manufacture the entire pump. In addition to our supply and fabrication services, we specialize in reverse engineering parts that are no longer available. Send us a sketch or sample part and we can replicate it.
In addition to supplying you with replacement pieces for your pump, we can help you with:
Replacement part design and fabrication
Reverse engineering of discontinued items
Replacement of standard wear items
Individual pump parts or large assembly capablities
At Quality Pump Parts, Inc. we are committed to providing you with the best quality product, for the most competitive price without sacrificing quality. With thirty one years of experience in the pump part manufacturing industry, we guarantee each of our customers a reliable replication of their original part. Let us put our experience and skill to work for you.
Sulzer, Bingham Willamette, Flowserve, Byron Jackson, ITT, Goulds, Dean Brothers, Hayward Tyler, IDP, Ingersoll Rand, Dresser, Pacific, Peerless, David Browne, Union, United Centrifugal, Wilson Synder, Worthington, Allis Chalmers, Aurora, Fairbanks Morse, Morris, BWIP, Duriron, Durco, Western Land Roller are Trademarks and Tradenames of their prospective Corporations or owners. We do not imply that we make parts or distribute parts for these Corporations.